We are currently planning our programme for the coming year. If you have any ideas or would like to put on an event please get in touch.
____________________________________________________________________________________________
TICKETS ON SALE FRIDAY 9th SEPTEMBER

Get your tickets for our Queen Tribute band,
'The Freddie and Queen Experience' coming to the Macphail Centre on Friday 18th November 2022.

Tickets can be bought online through eventbrite.co.uk and only a few tickets will be sold here at the Macphail Centre.
Contact us at 01854613336 to reserve your tickets and pay on the night!
---
Grassroots Jazz Fundraising Campaign
There is currently a campaign running to help struggling grassroots jazz clubs that didn't qualify for funding in the post pandemic Culture Recovery Fund. It's a desperate time for UK jazz and we have already seen closures, sometimes of clubs that have been in existence for decades.
If you would like support this cause then please visit
https://www.grassrootsjazz.com where there are a number of fundraising initiatives, including a raffle, a 'gofundme' page, a direct PayPal donations link - with an option to opt for 'gift aid'. The site will also keep you informed of live fundraising events and a list of clubs that have received grants.
Your help would be appreciated enormously.
Thanks
________________________________________________________________________________
Phil McIntyre Live ltd by arrangement with The Galton Agency proudly presents:
Ray Bradshaw: Deaf Com 1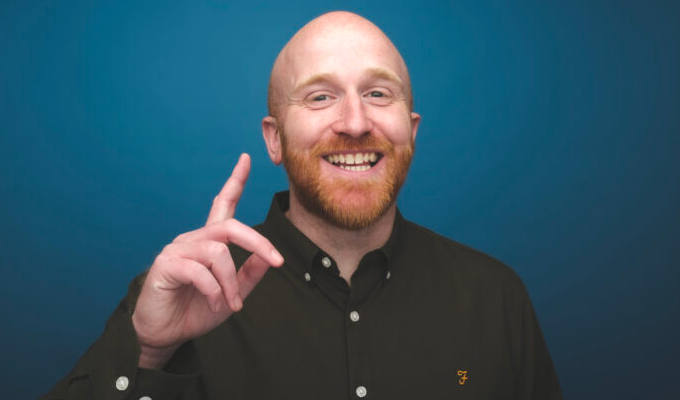 Following his groundbreaking 2018 show, Deaf Comedy Fam, Ray Bradshaw's new stand-up show, Deaf Com 1, covers his recent fatherhood, teaching his young son sign language and a disastrous trip to Bahrain!
International award-winning comic, Ray, spent 2021/22 touring the UK as John Bishop's handpicked support act, having previously toured with Frankie Boyle in 2019. Ray was the first comedian to ever win a Scottish Culture Award and is a regular host of Scotland's most popular radio show, Breaking The News.
Ray is a CODA (like in the Oscar winning film) and grew up with deaf parents. All of his shows are performed in both BSL and English, with Deaf Comedy Fam becoming the first ever live comedy experience for more than 800 deaf audience members.
Ray's clever, charming and very funny comedy has received critical acclaim from critics and fans alike.
"funny and fascinating… one in six of us will lose our sense of hearing. Deaf Comedy Fam proves it doesn't mean you have to lose your sense of humour" ★★★★ The Scotsman
The Macphail Centre, Ullapool
1st April, 2023, 8pm
Tickets: £16.95 each on the Ticketmaster website
Tickets: Ray Bradshaw, Ullapool | Sat, 1 Apr 2023, 20:00 | Ticketmaster UK
____________________________________________________________________________________________
NHS DEAF SERVICES DROP IN
Starting Tuesday 14th June 2022
(Then every 2nd Tuesday, every 2 months)
2022
Tuesday 9th August 2022
Tuesday 11th October 2022
Tuesday 13th December 2022
2023
Tuesday 14th February 2023
Tuesday 11th April 2023
Tuesday 13th June 2023
NHS Deaf Services, 4 Fodderty Way, Dingwall Business Park, Dingwall, IV15 9XB
Tel: 01349 868711 Mob:07887 833889
Email: This email address is being protected from spambots. You need JavaScript enabled to view it.
___________________________________________________________________________________________
-