Past Events
____________________________________________________________________________________________
What a brilliant night at the Scottish Opera in the Macphail Centre last night! Despite the weather, we had a fantastic turn out and night overall!
The art department team with Ullapool High had a great idea to have a 'Night at the opera' where pupils could dress up for the occasion and come and have some nibbles and nosecone on the evening, they looked fabulous!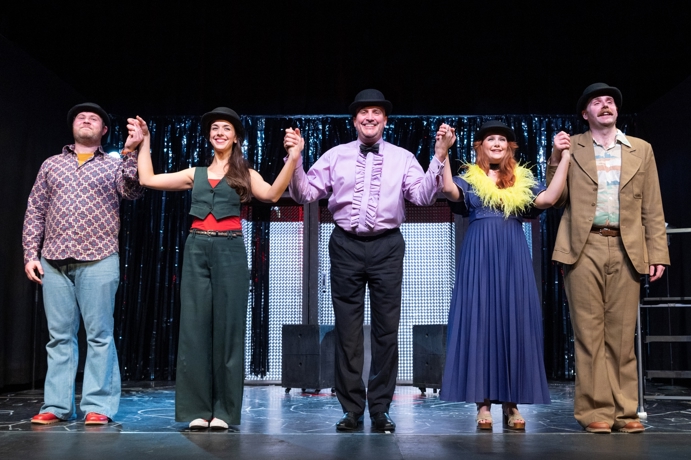 _________________________________________________________________________________________
An evening with Doug Allan 'I'TS A WRAP'
Multi Emmy and BAFTA award-winning Blue Planet and Planet Earth cameraman Doug Allan is heading out on tour.
15th November 2021
7:30PM
_________________________________________________________________________________________
MAHLER PLAYERS
NORTHERN LIGHTS
29th November
8PM
Tickets £18/£16 conc. & £5 (Under 26's)
School children FREE
£14 adult accompanying school children
Northern Lights - Mahler Players perform Sibelius
Sibelius Symphony No. 5
Sibelius Symphony No. 2
Tomas Leakey Conductor
The Mahler Players return in late autumn with an all-Nordic programme, featuring the Second and Fifth symphonies of Sibelius in versions for 25 musicians. We continue our collaboration with Highlife Highland, allowing us to offer free tickets to school children for these concerts. We hope to see you there!
FAITH HEALER
Friday 8th November, 7PM, £12
A haunting exploration of love, loss, belief and sacrifice, Faith Healer is often funny, passionate and tender. It will take you to the heart of what it means to love, struggle and believe.
Brian Friel is one of Ireland's greatest playwrights. Author of Translations, Dancing At Lughnasa and Philadelphia, Here I come, Faith Healer is considered his masterpiece.
Starring George Costigan who is best known for portraying Bob in the 1987 film Rita, Sue and Bob Too as well as his recent role in Happy Valley.
_______________________________________________________
IT'S YOUR ROUND – Pub Quiz Cabaret
Saturday 19th October, 7:30PM, Tickets £10/£8
Age 12+
Join Quiz Mistress and Pub Landlady PAT PINCH as she takes
over your local with live music, prizes, audience participation and, of course, a few drinks! Test your team with rounds such as:
- How local are you? So down with your town you can almost taste it...?
- Jumping Juke Box! Movie and music rounds - with a difference.
- Plus general knowledge, photo and bonus rounds!
Whether you're a liver-bashing barfly or a strict abstainer, a quiz master-mind or an absolute beginner, PAT is waiting to treat you to six of the best pub quiz rounds EVER! Scary Little Girls specialise in presenting intelligent entertainment in a totally accessible format - expect our unique take on the picture and music rounds and enjoy the literature, movie & general knowledge rounds coming to life in a way never before seen in a pub quiz!
TIBETAN MONKS FROM TASHI LHUNPO MONASTERY
Masked dance and sacred chant from a Tibetan Monastery.
Macphail Theatre
Friday 11th October
7:30PM
Tickets: £12/£10
plus
Free public access to watch a Peace Mandala being made by the monks. It is constructed out of millions of grains of coloured sand, placed into an intricate pattern. Construction will begin with a dedication prayer at
2:30PM Thursday 10th October in the Coigach Room of the Macphail Centre and will continue the following morning from 9AM (Friday 11th October). Once the mandala is complete the monks perform a prayer of blessing and release Manjushri to return to his own realm, and then ritually destroy the mandala Friday 11th October at 3:30PM. Traditionally some of the sand is placed into running water to spread its blessings as far as possible, while people attending the ceremony can take small bags of the sand away with them.
Saturday 21st September
Macphail Theatre
7:30PM
Tickets £15 & £5 (Under 26)
The venue is confirmed, and the guest list is complete. The decorations are ordered, and the entertainment has been booked for a very special garden party. This Autumn, four singers and a pianist bring you an evening of Opera Highlights, with music from some of the world's most celebrated composers, including Britten, Donizetti and Mozart, alongside new work from Scottish Opera Composer in Residence Samuel Bordoli.
We're touring venues up and down Scotland with a celebration of all that is opera. Now all we need is y
Macphail Theatre
Thursday, 12th September
8PM
Tickets £10/£8
10+
'Poet of the Impossible' is a beautifully crafted weaving of magic and spoken work created by Scots-Italian magician and playwright, Lorenzo Novani. This intimate show, which has been touring the UK over the last year with stops at Brighton Fringe, Carlisle Fringe, EdFringe, and most recently, the International Magic Festival, has been acclaimed for its originality and stripped-back simplicity which makes its magic seem all the more incredible.
You really haven't seen anything like this.
Prepare to be spellbound, his words enchant and his magic defies explanation and gravity.
19th July
Can YOU Catch a Killer?
2pm & 7.30pm
Tickets £10 & £6 conc (under 18s & over 60)
Watch events unfold in a professionally performed play and then flex your detective skills and have your chance to interrogate each suspect in turn. Bring a team or come on your own.
Fun, funny and deliciously brain teasing, Can YOU Catch the Killer? mixes live game play with a high quality theatrical performance.
Friday 21 June 2019
CATRIN FINCH & SECKOU KEITA
Macphail Centre, Ullapool
Tickets £18 & £15 conc
'A Theatr Mwldan Production'.
This sublime, critically acclaimed and multi award-winning collaboration between two adventurous virtuoso musicians - Welsh harpist Catrin Finch and Senegalese kora player Seckou Keita - delivers a stunning exhibition of world-class musicianship.
Drawing deep on their own diverse traditions and transforming them with remarkable synergy, Catrin and Seckou have built a formidable reputation for extraordinary performances. Following the huge success of their debut release, their long-awaited second album 'SOAR' released in April 2018. The album takes flight on the wings of the osprey, the magnificent bird of prey recently returned to Wales after centuries of absence, which makes its annual 3,000-mile migration from the coasts of West Africa to the estuaries of Wales, soaring like music and dreams over man-made borders, on its innate and epic journey of endurance.
Entrancing, mesmeric, intricate and ethereal, this is remarkable music and a thrilling live experience.

"an emotional demonstration of how two virtuoso musicians triumphantly bring different cultures together"
5* Robin Denselow, The Guardian
" ... SOAR is about as near to perfection as is possible."
5*, Dave Haslam, RnR Magazine
Some Youtube clips here:
Clarach: https://www.youtube.com/watch?v=urnm8Aync5s
Bach to Baïsso: https://www.youtube.com/watch?v=u5_VfQIMR7w
Térangah-Bah: https://www.youtube.com/watch?v=w4OSAQeVBw0
Spotify link:
https://open.spotify.com/album/2s5WYOg1fezE42u6X0GqJc?si=v08ZFn1nSa6igAUxuFTJjA
"You could listen to this 1,000 times and still find something new"
4* David Hutcheon, MOJO August edition
'...worth every moment of the wait - a truly inspired second act from the duo'
Keith Ames, lead review in summer edition of the Musicians Union Magazine
"an emotional demonstration of how two virtuoso musicians triumphantly bring different cultures together"
5* Robin Denselow, The Guardian (Live review, Union Chapel, 12 May)
__________________________________________________________________
Sunday 23rd June, 3PM
A weary traveller, driven by a storm and pursued by a ferocious horde, seeks shelter in a hut in the forest. He is gently tended by a woman, who awakens distant memories of his early life…..
In June 2019 the Mahler Players will give the Highland premier of Wagner's Die Walkϋre. In a specially commissioned new orchestration by composers Matthew King and Peter Longworth, the orchestra will perform Act 1 from the opera.
Given its UK premiere in 1882, it has nonetheless never been performed in the north of Scotland.
Working with world-renowned soloists Claire Rutter (recent appearances include the title role in Tosca with Welsh National Opera and Icelandic Opera), Peter Wedd (the Prince in Rusalka with Scottish Opera, Siegmund in Die Walkϋrewith Opera Frankfurt and the title role in Lohengrin with WNO) and Olivier Award winning bass-baritone lestyn Edwards, this promises to be amust see event this year for everyone in the north of Scotland.
Schoenberg's haunting and romantic Verklӓrte Nacht (Transfigured Night) will be in the first half.
We hope to see you there for what promises to be an unforgettable concert.
LEGENDS OF AMERICAN COUNTRY MUSIC TRIBUTE SHOW
Wednesday 5th June, 7:30PM
Tickets £21.50
THE CHEVIOT, THE STAG AND THE BLACK BLACK OIL
Tuesday 28th May, 7PM
Tickets £12
A ceilidh through Scotland's past – and present
This legendary piece of Scottish theatre tells the story of the exploitation of Scottish lands, waters and people over the centuries.
From the highland clearances to the oil boom, this is the universal tale of how the greed of a few blights the lives of many. Add a generous dose of Scottish rebellion and irreverence. Throw in some live music and a riotous ceilidh – you've got yourself a rollicking great night out.
Following 2015's hugely successful restaging, this new version of The Cheviot takes the story back to its roots, visiting intimate art centres and community spaces, echoing the play's original 1970s tour by 7:84.
Come and experience the 'Story that has a beginning, a middle but, as yet, no end…'
Recommended Age Guide: 14+
Presented by the National Theatre of Scotland in association with Dundee Rep Theatre and Live Theatre, Newcastle. Based on the original production by Dundee Rep Theatre.
MACPHAIL THEATRE
THURSDAY 9TH MAY
7:30PM
£17.50
This performance is based on Robert Service's
famous poem, set in the snow-bound north, which
appeared in Service's book of poems, first published in
1907, Songs of a Sourdough (a 'sourdough' was someone
who had spent an entire year in the Yukon).
Christine Hanson's wonderful musical compositions
accompanying what is probably Service's best-known
poem make full play with the poetry's different colours,
nuances, tones and range—varying from traditional jigs,
reels and country waltzes to southern swing and frosty
musical soundscapes which perfectly evoke the bizarre,
tragicomic setting of Service's poem.
THE UNWANTED
Saturday 23rd February
Macphail Theatre
7:00PM
£10/£8 conc.
16+
THE UNWANTED is a comedy dance theatre show.
Thomas has faced a constant, stifling stream of rejection. Dates broken, relationships soured but even worse...dance pieces that never got made. They remain unfunded, uncommissioned, unloved.. they are The Unwanted. From a large-scale interactive piece about the apocalypse to another exploring the nuances of cheese, Thomas will bring these little wonders to life. Maybe we'll discover there was a reason that they never got made...
With comedy songs specially written by Mark Franks of The Overtones, and with lots of audience dancing and karaoke, this comedy dance theatre show makes a brilliant night out!
MAIRI CAMPBELL
AULD LANG SYNE
MACPHAIL THEATRE
FRIDAY 18TH JANUARY 2019
7:30PM
Tickets £10/£8 conc.
https://www.youtube.com/watch?v=Y9AgPPLeu8I&index=4&list=PLcbV-ffUdJMIUrqmRpJvEXVJGxleHsKtq&t=0s
Mairi Campbell: Auld Lang Syne is the new one-woman theatre show from Scottish musician Mairi Campbell.
Co-devised and directed by Kath Burlinson with original music produced by Mairi and Dave Gray, Mairi Campbell: Auld Lang Syne tells a very human story through her personal relationship with the world-renowned Scottish song.
Mairi Campbell: Auld Lang Syne braids together three stories: a childhood friendship, early married life and her adventures with the song. These include forgetting the words when singing for President Clinton and featuring in the New Year's Eve scene of the 2008 blockbuster Sex and the City.
Alongside, Mairi tells the story of the song itself - one that many know but few truly understand – how it spread worldwide; what it means and where it is sung.
Mairi Campbell: Auld Lang Syne is a potent, funny and heartfelt show that uses Mairi's personal experience to create a piece that resonates with wider universal truths. It was selected as part of the Made in Scotland Showcase 2018
_______________________________________________________
Ray Bradshaw
23rd November
Full of hilarious, revealing tales about growing up with deaf parents, Deaf Comedy Fam presents a very first for comedy, as each show will be performed by Ray simultaneously in both spoken English and British Sign Language – which just so happens to be Ray's first language.
Two-time Scottish Comedian of the Year finalist Bradshaw debuted Deaf Comedy Fam at Glasgow International Comedy Festival before moving to the Edinburgh Fringe for a critically acclaimed, sold out run – don't miss the first ever comedy set to be spoken and signed by the comic themselves!
Adelaide Fringe Weekly Innovation Award 2018.
'Has a clear comedy gift' ★★★★ Edinburgh Evening News
'Captivating, funny and sharply executed' ★★★★★ Broadway Baby
SCOTT GIBSON
26th OCTOBER
7:30PM
£10/£8
Award-winning comic Scott Gibson was just 16 when he first tasted freedom and set off on a voyage of self-discovery. His destination? Kavos, of course. Where else?
Delivered in his breathlessly inimitable style, Gibson takes you on an epic odyssey that charts the choppy waters of youth. A blisteringly funny hour on the escapism and hedonism that travel promises, this is a story about friendship, love, pool parties, travel insurance and the Greek third-choice goalie.
Edinburgh Comedy Award for Best Newcomer 2016.
"A big, bold, belter… riotously funny" «««« The Herald
"You'll be howling throughout his set… gut-bustingly funny" ««««« Broadway Baby
Image by: Steve Ullathorne
https://www.seetickets.com/event/scott-gibson-anywhere-but-here/macphail-centre/1247898
BBC WILDLIFE PHOTOGRAPHER
Doug Allan: Wild Images, Wild Life
October 12th, Macphail Theatre
7:30PM
'Wildlife cameramen don't come much more special than Doug Allan' - Sir David Attenborough
Join multi-award winning wildlife cameraman Doug Allan for an evening of behind the scenes stories for all the family, with highlights from the most challenging assignments of his 35 years filming wildlife in the remotest places on Earth. Find out if snow leopards or leopard seals are the most scary; discover how to get close to the biggest fish in the sea and whether your eyeballs freeze at minus 50.
Born in Fife, Doug Allan spent seven years in Antarctica as a Scientist, research diver and photographer for the British Antarctic Survey, before changing direction to full time freelance filming in 1983.
Since then he has become one of the world's best known and respected cameramen, specialising in natural history, expeditions and science documentaries. In his 35 year filming career, he's worked for the BBC, Discovery, National Geographic and many others, filming for series including The Blue Planet, Planet Earth, Human Planet, Frozen Planet, Ocean Giants, Operation Iceberg, Wild Cameramen at Work, and Brian Cox's Forces of Nature.

This new presentation traces Doug's personal journey as he discusses how he's seen pollution and climate change affect the natural world.
Copies of Doug's book Freeze Frame will be on sale, as well as his colour prints of polar bears, penguins and seals.
—————
Suitable for all ages
Running Times: 2 hours (inc 20 min interval and audience Q+A.)
https://www.youtube.com/watch?time_continue=42&v=2YKXUoBVAPY -
_____________________________________________________________________________________
Macphail Theatre
Tuesday 2nd October
7:30PM
This Autumn, four brilliant singers and a pianist bring an engaging, live opera playlist to 17 venues across Scotland. Join them as they press 'play' on some of opera's greatest hits, as well as some lesser-known gems.
Director Daisy Evans takes you on an emotional musical voyage with a programme that includes favourites from Mozart's The Magic Flute and Donizetti's L'Elisir d'amore, and a new work from Scottish Opera Composer in Residence, Samuel Bordoli. Through music and song, the four singers weave together a tale of one person's discovery of the profound power, emotion and drama of opera. There's something for everyone from seasoned fans to opera first timers, Opera Highlights promises a night of entertainment, laughter and good company.
___________________________________________________________________________________________
http://www.mountaindream.co.uk/the-wild-within
My Mountain Life: Simon Yates
On the remote Siula Grande in Peru in June 1985, mountaineer Simon Yates found himself in a desperately unenviable position.
He was slowly being pulled off the mountain face by his injured partner, Joe Simpson, dangling on the rope 50 metres below. His decision to cut the rope saved both their lives in the epic of survival that followed and with the publication of the book 'Touching The Void' and the later film, both climbers became household names.
It was an experience that could have put many off the sport of mountaineering - but not Simon. Over 30 years later, he is still a very active exploratory climber and guide, making several expeditions to the mountains each year. From the Arctic to the Antarctic, Alaska to Central Asia there is hardly a significant range that he has not visited.
Come along and witness Simon's tireless journey from that mountain in Peru to some of the remotest on the planet and share with him the drama, excitement and beauty of modern, lightweight alpinism. Told with wit, dry humour and lavishly illustrated with images and video collected on his great climbs.
----------------------------------------------------------------------------------------------------
Tuesday 19th September
6:30PM Macphail Theatre
Family show suitable 5+
£6 Adult / £4 Child
One Man Shoe, is a delightful show for children and families, performed by Jango Starr. When the headline act fails to show up, Jango, a bumbling theatre caretaker, is suddenly thrust into the limelight and embarks on a hilarious journey of highly crafted and heart-felt silent comedy, as he magically finds his way to realise his dream of transforming into a star! Directed byGerry Mulgrew, designed by Becky Minto with original music byPhilip Pinsky. Jango Starr's unique style of silent physical theatre includes contemporary circus clowning, slapstick comedy, puppetry, juggling and absurd magic, bringing laughter and joy to all ages! www.onemanshoe.uk Produced by SC²ENE (sc2ene.com)
The Song of the Earth – Mahler in Miniature
Bach arr. Webern Ricercar a 6
Webern Symphony Op. 21
Stuart MacRae New Commission (World Premiere)
Mahler Das Lied von der Erde ('The Song of the Earth') arr. Cortese
Macphail Theatre
Wednesday 27 April 2016
8pm
Tickets: £15/£12/£5
Box Office 01854 613336 This email address is being protected from spambots. You need JavaScript enabled to view it.
Online through Ticket Tailor (no booking fee)

Karina Lucas Luke Sinclair Stuart MacRae
Mezzo-soprano Karina Lucas
Tenor Luke Sinclair
Conductor Tomas Leakey
The Mahler Players
The acclaimed Mahler Players pay their first visit to Ullapool with Mahler's oriental-inspired Das Lied von der Erde. It is often cited as his greatest work and is a masterful synthesis of symphony and song. For this Everest of the repertoire the ensemble will be joined by Karina Lucasand Luke Sinclair.
In the first half the Mahler Players will perform Webern's mind-blowing orchestration of Bach's Ricercar from the Musical Offering as well as his own Symphony Op. 21. A new commission by Stuart MacRae, originally from the Highlands himself, will complete what should be an entertaining and thought-provoking evening.
Acknowledgements:
'Supported by the National Lottery through Creative Scotland'
'The new commission by Stuart MacRae is supported by the Britten-Pears Foundation and the RVW Trust'
Press quotes:
The Mahler Players"a virtuoso performance" Inverness Courier, July 2015
Stuart MacRae
"Here is a composer who knows how to write for orchestra: how to make its textures shimmer and growl and generally synthesise into more than the sum of its parts."
Kate Molleson, The Guardian, 2013
CREATIVE WRITING WEEKEND
20 - 22 February 2015
Macphail Centre
Creative Writing Weekends in Ullapool are designed
for those who want to write more,
who may have written in the past,
or who have an idea or a project
which needs a little time, space and encouragement.
Tutor: Poet & Writer Stephen Keeler
.
Comments from our last weekend in November 2014
"supremely enjoyable" "varied and inspiring" "a very well designed course".
Cost: £64
For further information, please contact
This email address is being protected from spambots. You need JavaScript enabled to view it.
A CENTURY OF BIRTHS
1900 - 1999
Baby photos of people connected with the Ullapool area
a commmunity exhibition
Summer 2012
The Pear Tree Project
This year (2011), Ullapool is celebrating the life and times of an ancient Worcester shire Black Pear tree which once grew in the grounds of the Old School House, Market Street. Its fruit was a bit on the hard side, but was well-know by local children for its excellent ammunition qualities!
Sadly, the pear tree had to be cut down to make way for much-needed new houses, but memories of the tree and related childhood experiences, were recorded and interpreted through a series of art and social history activities.
Ullapool Museum Trust (who spearheaded the project) and Ullapool High School collected pear tree stories for an exhibition and archive.
The Macphail Centre was the setting for Eleanor White's community workshops where people of all ages painted and decorated wooden pears. These pears were then hung from trees in 6 different locations in Ullapool during May 2011. They were supposed to be up for 3 weeks but there are still some hanging on a tree at the Ceilidh Place in West Argyle Street!
Textiles artist Jan Kilpatrick made an ambitious attempt to build a pear tree in only eight hours! The workshops took place at an talla solais, Ullapool's art centre and Jan was helped in this enterprise by a good number of Primary 6 pupils from Ullapool Primary School and a few intrepid adults from the community at large.
Tel : 01854 613336 of Email : This email address is being protected from spambots. You need JavaScript enabled to view it.">This email address is being protected from spambots. You need JavaScript enabled to view it.
FRINGE: textiles from the edge of civilisation!
A Macphail Centre Community project working in partnership with Jan Kilpatrick, and exhibited at an talla solais, Macphial Centre and Gairloch Library in 2010.
These photos show a selection of items from the exhibition, illustrating the diversity and skills of the people involved.
Passing Places
PASSING PLACES / AITE SEACHNAIDH
This work commissioned by The Macphail Centre has been funded by the following:
Highland 2007
Highland Council; Leader+ ; Scottish Natural Heritage; Ulapool Tourism & Business Association
Past Productions
Further information on Past Theatre Events is available in the Past Production section.
Visit the History page for a comprehensive background to both the Macphail Centre and the High school